The demand for healthier and natural products is rising in India due to heightened consumer demand and more health-conscious lifestyles. The F&B industry is also responding to these changing priorities, including greater adherence to using natural food colouring.
Three significant factors are at the heart of this accelerating adoption of natural food colours
a sharp rise in customer awareness
the need to comply with more stringent labelling laws
an increasing perception that products with cleaner labels are better for you
These factors are driving a relatively rapid shift, putting natural food colours at the centre stage in influencing purchase decisions.
Let's check out some of the latest offerings in the Indian F&B market, which feature all-natural food colouring.
BREAKFAST CEREALS – Tata Soulfull & Saffola Veggie
BEVERAGES – Paperboat & Sepoy
DAIRY – Nestle & The Brooklyn Creamery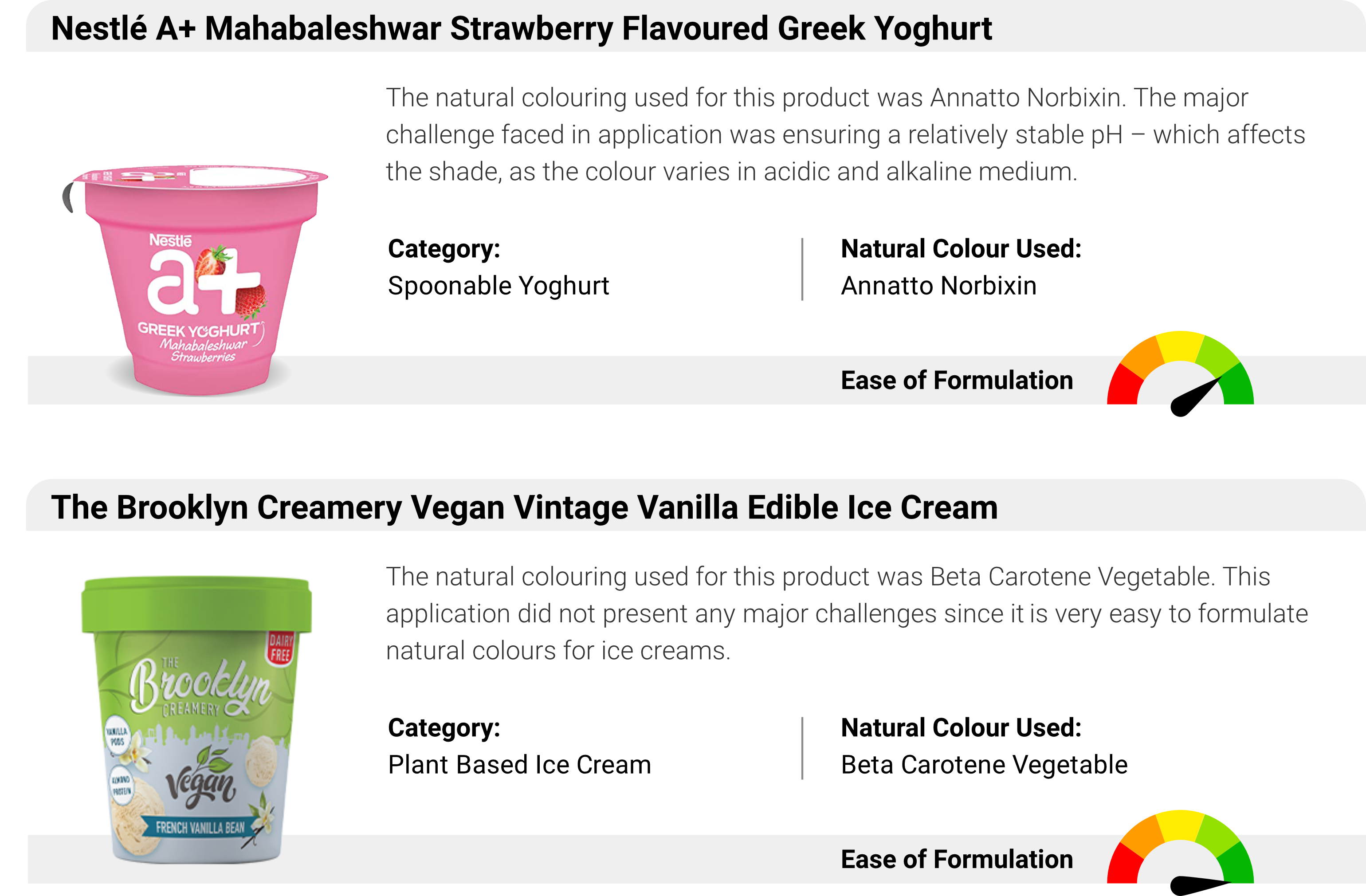 BAKERY – Cadbury
MEAT SUBSTITUTE – Licious

MEALS AND MEAL CENTERS – Tata Q Quick

CHOCOLATE CONFECTIONERY – ITC Fabelle
* certain products contain both artificial and natural colours
Natural Food Colour Scale
Some foods and drinks take to natural food colours well, while others may require more time to do so. Here's a handy chart that breaks down which industries are open to using natural food colours and which may require a more tailored approach to formulation,
In recent times, many prominent players in the processed food industry have wholeheartedly endorsed the transition towards natural food colours. However, the shift presents a few challenges – due to natural colours facing issues with lower stability and retaining vibrancy across their shelf life.
This is where Symega's extensive research and formulation prowess is helping turn a lofty goal into a conveniently achievable evolution. Our solutions can be specially customized for the needs of every segment in the F&B industry; to seamlessly address distribution, packaging, and classification issues.
Reach out to us, and let Symega help make your F&B business more future-friendly as you embrace the natural shift!