What is Tartrazine?
Have you ever wondered what goes into making lemon-yellow ice pops so bright? Chances are it is Tartrazine, an artificial yellow food colour. This colourant is known in the food processing industry by many names, including FD&C Yellow #5, E 102, Yellow Lake 69, Food Yellow 4, Acid Yellow 23, Trisodium, and more.
Tartrazine is just one of many azo food colours derived from petroleum chemicals. It is among many other dyes and food additives that have been researched for their possible adverse effects on health. This is particularly shocking because it is a widely used food colour, often found in ice creams, candies, juices and lots more.
A widely used colourant worldwide, Tartrazine is combined with brilliant blue FCF (FD&C Blue 1, E133) or Green S (E142) to create a wide range of green shades, further expanding its use.
Here is a list of foods that might contain Tartrazine,
Why is Tartrazine Bad?
Several symptoms and health issues have been linked to Tartrazine, including those listed below.
Hyperactivity in children: Researchers at the University of Southampton in the UK conducted detailed studies on synthetic food colouring. And three seminal research papers published between 2004 and 2007 found a correlation between children's hyperactivity and drinking fruit juices coloured with artificial food dyes, such as Tartrazine.
The main finding of the studies was that consuming a mixture of artificial food colours and sodium benzoate was associated with increased hyperactive behaviour in children.
Based on these findings, the European Food Safety Authority (EFSA) reviewed the safety of the six artificial colours studied. It concluded that they might adversely affect children's activity and attention. As a result, the use of these colours is now subject to specific labelling requirements in the EU, indicating that they may alter children's behaviour.
The risk of cancer: In 2015, a study examined how Tartrazine affected human white blood cells. Researchers found that this food colour did not kill white blood cells immediately, but it did damage DNA, altering the cells over time.
Tartrazine harmed white blood cells in every concentration tested after three hours of exposure. In addition, researchers found that cells exposed the most couldn't heal themselves. This may increase the likelihood of tumour growth and diseases such as cancer.
Researchers concluded that the gastrointestinal tract cells might be more likely to get cancer because they are directly exposed to Tartrazine. In addition, most of the artificial food colours we consume are broken down in our colons, increasing the risk of colon cancer.
Other health hazards: The effect of Tartrazine on flies was evaluated in a study published in 2019. The results showed that Tartrazine became toxic to the flies at the fourth highest concentration, and 20% of the flies in the group didn't survive the study.
Human leukaemia cells were tested with various artificial colours in the second leg of the experiment. Although Tartrazine and other artificial food colours were found to promote the proliferation of tumour cells at safe exposure levels, they posed no threat to human DNA. However, the researchers concluded that "a high chronic intake of food colourings during one's lifetime is not desirable."
How to look for Tartrazine in products you purchase?
It's a good idea to read food labels carefully before purchasing. For example, Tartrazine is an ingredient in many processed and packaged foods, although the amount varies widely depending on the manufacturer and the product. Based on the regulations within a market, Tartrazine may be listed on food labels as "colour," "Tartrazine," or "E102."
Tartrazine Linked Regulations from Around the World
USA: In the United States, the use of Tartrazine as a food colour is regulated by the Food and Drug Administration (FDA). Tartrazine can be used as a food colourant and is listed on the FDA's list of approved colour additives. The FDA regulates the use of Tartrazine in food products and requires that it be listed on the product label.
EU: In the European Union (EU), the use of Tartrazine as a food colourant is regulated by the European Food Safety Authority (EFSA) and the European Commission. Under EU regulations, Tartrazine is one of six colours that must be listed on the product label if used in a food product. In addition, the label must include the statement, "may have an adverse effect on activity and attention in children".
GCC: In the Gulf Cooperation Council (GCC) region, products containing the colourants Allura Red AC (INS 129), Sunset Yellow (INS 110), Azorubine / Carmoisine (INS 122), or Tartrazine (INS 102) must include a warning label stating, "this material may be having a negative effect on activity and concentration in children", starting on January 1, 2017.
According to Mintel GNPD, the use of Tartrazine in new products dropped by 11% between 2018 and 2020 – mainly due to regulatory changes. Tartrazine market share dropped to 7.5% in GCC countries in 2017 – from 18% the previous year – while natural colours' share has more than doubled – to 18% from 7% – between 2017 and 2022.
In the same period, bakery products in the GCC registered a staggering 64% growth in the use of natural colours. In addition, there was a 47% higher use of such safer alternatives across dairy products, desserts, ice creams & juices.
Natural Alternatives to Tartrazine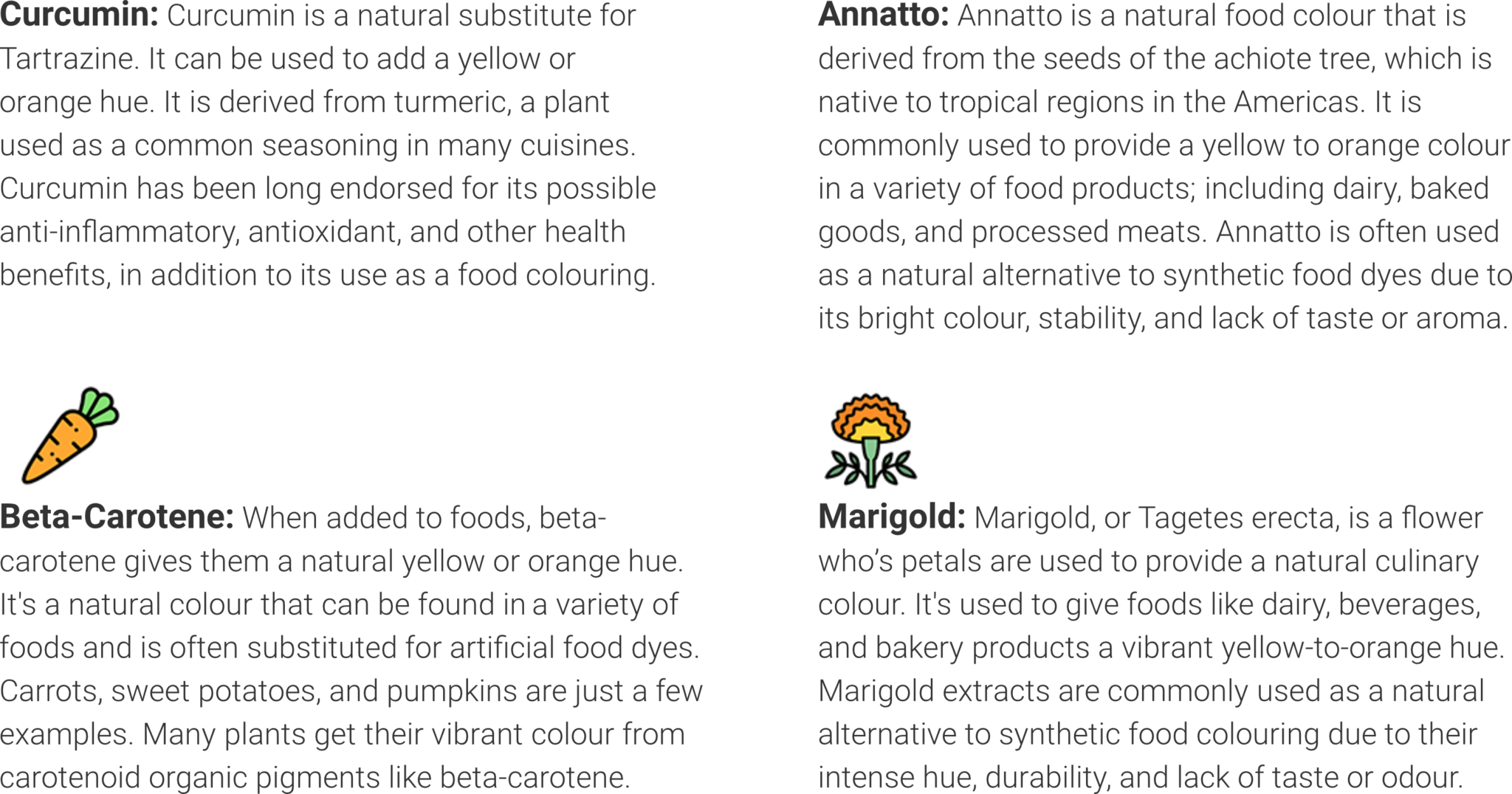 Given such alternatives, it's no wonder that the processed food industry is rapidly shifting to natural alternatives. For example, according to Mintel GNPD, around 26% of ice creams launched in the last five years in the USA contained artificial colours. On the other hand, only 3% of the ice cream manufacturers in European Countries used artificial colours over the same period. The shift is equally apparent in other markets. For example, around 36 % of ice creams launched in India in the past five years had natural colours, while 85% of those launched in GCC countries over the same period contained natural colours.
As a conscientious business, you are also likely to be considering moving on from Tartrazine to embrace natural alternatives which provide the same results sans the health scares and regulatory hurdles.
We at Symega offer precisely manufactured and customized solutions for F&B businesses seeking natural alternatives to synthetic food dyes like Tartrazine. With an extensive range of natural food colourants, we provide a reliable and sustainable way to enhance the appearance of food products while meeting the consumer demand for clean-label ingredients. In addition, our commitment to quality and customer satisfaction makes us a trusted partner for businesses looking to make a seamless shift to natural colours. To know more, please get in touch with us here.