Many delights of the Maghreb
With growing spending power, disposable income and exposure, consumers now are very experimentative and seek out new experiences. Trying a variety of food flavours is one such experience. Arabian cuisine is a hot favourite all-round the year in India due to the strong connection with GCC. Middle East is home to around 9 million expatriate Indians and they carry the flavours of Maghreb back home. This migration of flavours has created a huge fan base for Arabian cuisine in India – so much so that today there are restaurants and food outlets across the country serving Arabian delicacies.
Arabian Delicacies – Hot favourite all the year around
The Middle Eastern region has a rich variety of flavours and formats of food. The popularity of Arabian food among Indians is also due to close affinity between them, char-grilled roasts on spit or skewers, rice slow-cooked with meat and condiments enriched with dried fruits and nuts accompanied by an assortment of salads and yoghurt/curds are common to the spread on the table in both regions.
Shewarma, the rotisserie chicken/mutton is a rage in India. The Yemeni preparation called Mandi, which is usually prepared in a pot kept in a specially dug pit in the ground is a sought after delicacy in Indian cities. Falafel is another food which is gaining popularity around the world, Falafel sandwich stalls are found around the corner, near schools and colleges and serve a quick, tasty and affordable bite every day. It is finding more and more acceptance for different meal occasions due to its flavour and flexibility.
Apart from these machboos accompanied by khuboos and hummus, Arabic salads like fattoush, tabbouleh are loved by Indian consumers. Many restaurants now offer wide Arabian spread, Shaad Hasan Damudi, owner of the famous Alibaba café and restaurant, Bangalore, said: "We serve popular rice dishes like kabsa, maqlooba and Egyptian koshari apart from Arabian grills, mezzeh and shewarma. Indians have developed a great taste for Arabian cuisine."
During Ramadan season, Arabian cuisine is the most preferred, Sambousek, the extravagant spread made with minced meats with spices and cheese into half-moon-shaped savory dumplings is found in many cities.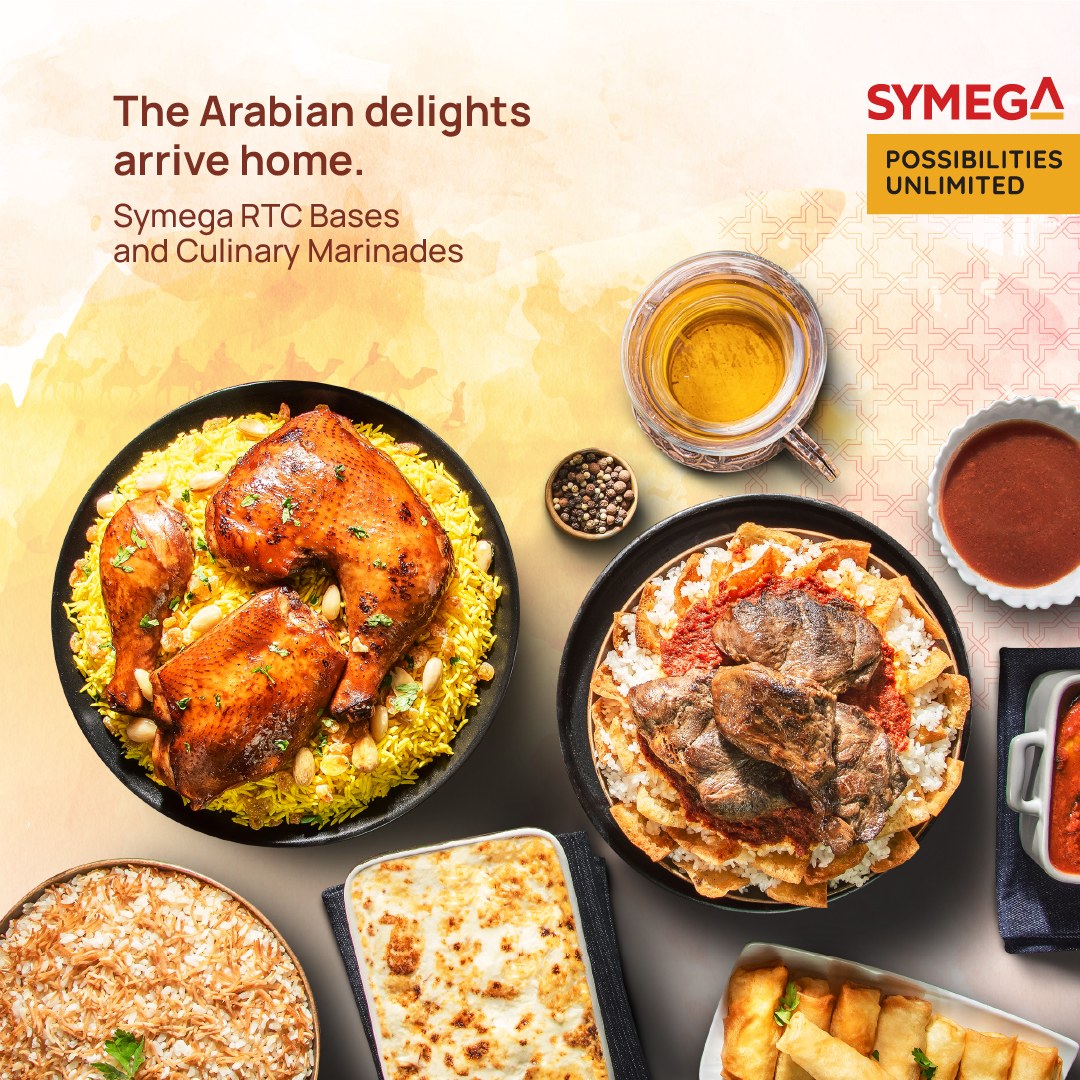 Infusing Arabian flavours
The modern consumer – particularly millennials – are constantly on the lookout for foods and flavours from around the world. And given the gaining popularity of Middle Eastern and North African cuisines the demand for the ingredients and flavours of these cuisine also have seen a growth. According to Fortune Business Insights Eastern Mediterranean, North African, East/Southeast Asian, and Indian cuisines are among the top influencers for trending ingredients.
While usually these experiences were sought by dining out at diverse restaurants, the pandemic has caused a reasonable decrease in groups and families dining away from home, as a result of which consumers today are craving for those big, bold flavours reminiscent of restaurant style Arabian food. Food producers too are looking out for best ways to deliver these flavours to the consumer at home.
Understanding these trends and needs of the consumer Symega brings forth a rich, delicious variety of Ready to Cook Gravies and Marinades for the Middle Eastern cravings.
Rice Gravy: Gravy is the most important part of the Middle Eastern cuisine which gives it the distinct flavour. Making gravy is a tedious long process involving sourcing a variety of ingredients and following a detailed process. Our ready to make gravies make the process quick, convenient and fun, reducing the effort and preparation time. Cook the gravy with a variety of meats and vegetables to get the most authentic Arabian flavours in the comfort of your home.
Grill Marinades: Marinating meat is an art, it involves selecting the right herbs and making the marinade and infusing it into the meat to make the meat juicier and tender. It is a time consuming, and difficult process. It takes a long preparation time and cannot be done at a whim. Our grill marinades make this entire process convenient, easy and exciting. Choose from a wide range of flavours for that lip smacking meat dish.