As a food solutions company, one important thing on our to-do list is to figure out the latest Food and Beverage Trends. Consumer preferences change not only with seasons and personal tastes & requirements but also because of the need to experience something new. Last year, as the world drifted out of the pandemic haze, the need for clean eating began to make more waves. Consumers are becoming more health-conscious and are demanding healthier options, such as organic, non-GMO, and natural products. Additionally, there is a growing demand for convenience and on-the-go foods and beverages that also fulfil nutritional briefs and products that cater to specific dietary restrictions, such as gluten-free, plant-based, zero-carb and sugar-free etc.
Currently, India's food & beverage industry is expanding in both reach and diversity. It makes up around 3% of India's GDP and nearly 2/3 of its retail market. This expansion is fuelled by several factors, including expanding urbanisation, growing disposable incomes, and the millennial population's changing eating and living patterns. Additionally, the widespread penetration of the internet and e-commerce has also led to the emergence of homegrown brands which are present online only and promise clean-label food products, often catering to specific diet and nutrition requirements.

So, the future looks exciting for the F&B industry. But which food and beverage trends will likely become popular in 2023? Read on to find out.
Millets– These ancient grains of India were a daily staple until half a century when wheat began to dominate the landscape. But happily, for us, millets are now back in favour again. The UN General Assembly adopted a resolution in April 2021 designating 2023 as the International Year of Millets under the leadership of India. With the gluten-free food movement picking up steam, millets are now in the limelight as a tasty, healthy, gluten-free alternative to wheat. These ancient grains are a storehouse of calcium, iron and fibres, which helps to fortify essential nutrients. Millets can be incorporated into chapatis, idlis, pulao or rice preparations, porridge, pancakes, millet cake, crepes, etc.
Protein – Protein is increasingly being positively perceived by consumers, as evidenced by the current high-protein food and beverage trends. Globally, protein consumption is on the rise, averaging 68 gm per person per day. India has one of the lowest average protein consumption (at 47 gm per person per day) compared to developed nations and other Asian countries. However, we are trying to catch up. Most diets today prescribe meals high in protein, and with growing health consciousness, consumers are paying more attention to product labels. So, most packaged foods today advertise the protein percentage in their product to help consumers make discerning purchases.

Protein today, however, has gone beyond merely marking nutrition labels on packaged products. Instead, many brands are marketing high protein products across food categories – from supplements to snacks and meal replacers.
Click here to download your copy of the Food and Beverage Trends 2023 Ebook to gain deeper insights into the latest and trending innovations in the food and beverage space in India.
Healthy drinks – Functional beverages continue to grow in popularity. And people want both taste and health. The top priority for consumers of functional beverages has long been immunity, gut and heart health. The aftermath of the pandemic, especially, has increased focus on holistic eating practices and preventive wellness. This can typically be rooted in traditional recipes (Ayurveda) and/or blends of vitamins, minerals, and probiotics and flavoured with natural ingredients whose active components and pigments also have a biological function, like kombuchas.
Low sodium, Low sugar, low fat – Food businesses have committed to promoting healthier food options as part of the 'Eat Right India' movement. This includes the reformulation of food products by major food companies with reduced percentages of sugar and salt. Internationally, many low-sodium soup and sauce options are available in the market, but this is still in the nascent stages in India despite showing good potential. However, there are quite a few brands offering zero-sugar and low-fat products.
Plant-based – Plant-based diets are steadily gaining popularity today in India. While a significant percentage of people have adopted it for ethical reasons, many others have taken it up primarily for health reasons. They are flexitarians – meat eaters who switch to a healthy and largely plant-based diet during the week with occasional non-vegetarian cheat meals thrown in. However, they still want plant-based foods that mimic the meat-eating experience, and it is this segment that retail brands are targeting with the introduction of plant-based meat. Parallelly, with growing lactose sensitivity among Indians, many are switching to plant milk, although they may not necessarily be vegan. This has seen the introduction of many plant-based dairy products and desserts.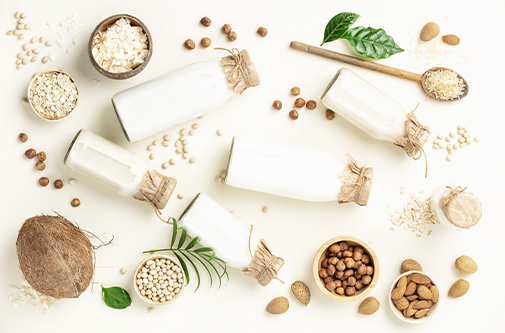 Ultra-Desi, Super Vi-desi – Consumers are easily fatigued with existing flavours and want to try new flavours and experiences without travelling too far. This has led to a growing interest in hyper-local specialities from national and world cuisines. In addition, brands are returning to basics to rediscover old recipes and reformulate them into various forms, including sauces and chutneys.
Click here to download your copy of the Food and Beverage Trends 2023 Ebook to gain deeper insights into the latest and trending innovations in the food and beverage space in India.
In conclusion, consumer demand for healthier, more convenient, and specialised products will continue. With government support and private investment pouring into the food & beverage sector, we will likely see more retail & QSR players hop onto these food and beverage trend bandwagons this year, both homegrown and mainstream.

Partner with Symega for co-developing and co-manufacturing trendy food solutions and innovative sensory ingredients for your brand of packaged food and beverages. To know more, reach us at marketing@symega.com.